It has been a long time coming, but it is finally here! This series of articles began in June, 2012 with Canadian Corsetry. It was followed by Canadian Makers, Tinkers and Inventors in August, 2012. Now we share with you a few Canadian Artists and Authors.
Canadians have a great tradition of storytelling, whether through the written word or their artwork. We spin a good yarn and we like to share it with friends and family. Lucky for my friends and family, and everyone else in Canada, a few like to do this in a steampunk fashion. Steampunk Canada has featured a number of wonderful Canadians here in the past including authors Arthur Slade, Rob St. Martin, Paul Marlowe and artist Keith Thompson.
But that's just the tip of the iceberg. Let me introduce you to a number of wonderful Canadian artists and authors you may not know about, but should.
Our first artist is an Ottawa artist who uses recycled materials and paper to create beautiful and colourful steampunk pieces. Her artwork was featured on our front page for the call out for this article. Choleena DiTullio's artwork represents her whimsical, sometimes-dark view of life. She employs a variety of techniques and media to create sculptural paintings.
You can find Choleena at many art shows around Ottawa and at her website.
Next we have artist and storyteller Shay Lhea. She is a steampunk designer and artist based out of Vancouver, BC. About five months ago she launched her own steampunk mask business called Oculto Steam Masks.
She creates mini steampunk stories to go with her masks, turning them into alter-egos instead of static disguises. Thus far the majority of her clients have been from overseas (primarily Australia and America). They have bought her masks and become the characters instilled into their disguises, taking them on when they attend steam conferences, expositions and world fairs.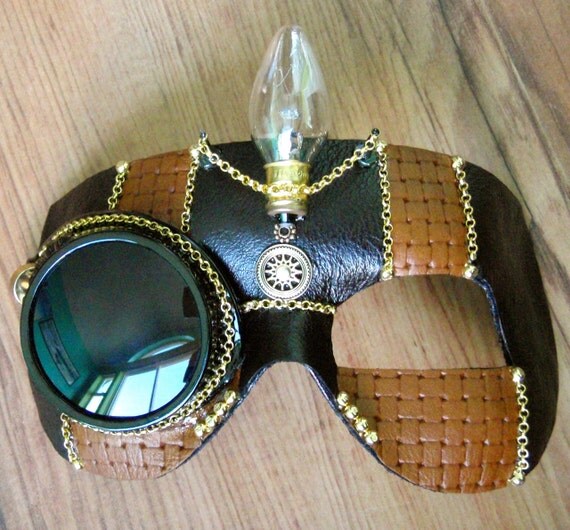 Phill Holder is a Steampunk Canada member who builds steampunk sculptures. All of his pieces are made from antique wood and metal parts. He has been doing this for many years he says, but never gave it a name until he saw something about steampunk and said "hey, that's my work". Now he feels quite at home. You can see his work here in the photo gallery or go to his website Phill Holder's Steampunk Factory.

SooZ ( Susan Jillette), a resident of Rigaud, (Quebec, Canada) has been painting since 2001. She has become an active member in numerous art associations and societies and exhibits her work in group shows, solo shows, in galleries, and on her website.
Presently she works with acrylics and is working on a new series of fun and colourful paintings in the fantasy realm. Most of her work can be described as bright and whimsical, although her new steampunk series is more muted in colour. Both the women and the fish in this collection are mechanical in nature.
Next up we have author and artist Halli Lilburn. She is already a published author of the novel Shifters and has been published in a number of anthologies as well. Currently she is working on a steampunk story called Evelyn of the Sea. You can find out more about it at her blog the epitome.
Gerald Mullis is also a member of Steampunk Canada. He is a lovely retired gentleman living with his wife in Toronto, Ontario. He is an artist using mostly acrylic inks. The painting below is what he recalled of the opening ceremonies on television of the London Olympics. It depicts industrial England at the time of Isambard Kingdom Brunel and largely portrays the heart of the Industrial Midlands where and when he went to school in post war Britain. I do hope he will share more of his works with us in the future.

Most of artist Louise Kiner's work is steampunk inspired. She is fascinated by stories of Victorian oddities and alternate histories. Her visual inspirations are Joseph Cornell, Edward Gorey and Terry Gilliam. The medium she works in is assemblage/collage where she combines found objects, miniatures, and sometimes her own photography to create Cornell type boxes with a dash of humor. You can find out more about her and she more of her art at her website.
Stephen Strang's paintings have been acquired by private collections in Canada, Europe, Australia, and in Central and South America. His carvings in bone and antler have been acquired by Parks Canada, the Smithsonian Institution, and by private collectors in Canada and the USA. He graduated from the special arts program at Canterbury, Ottawa's arts high school, then took his university degrees in Cultural Anthropology.
His art is an expression of his life-long fascination with history, science, mythology, and archaeology. The steampunk pieces come out of his delight in the aesthetics of contraptions, his experience working with 19th Century artefacts and technology in an Ottawa museum and an 1870's living history site, and reading 19th Century speculative fiction.
Our last entry is a triple threat of writers. Together they have created The Punkettes. The blog exists to showcase great Canadian steampunk and dieselpunk literature and explore the potential of the genre through engaging articles on everything from the process of writing it, to the definition of "aether".
Separately they are talented writers with projects in the works. Here is a little about each and their upcoming releases:
Rebecca Sky lives and works in Victoria, British Columbia, and is currently working on a YA clockpunk series.
Lindsay Kitson hails from Manitoba. She has had short fiction published on Microhorror.com and Thaumatrope. She is currently working on a dieselpunk novel called the Eyelet Dove.
Erin Latimer resides on the plains of Alberta. She is busy at work on a YA steampunk novel involving zombies.
I am going to leave you with teasers from their upcoming novels - Enjoy!