Tarot cards to me are not only a form of divination, but an art form as well. I am very particular when it comes to tarot cards. I have only four decks, each one having struck a chord in me as soon as I saw them. I fell in love with their clear and vivid readings, as well as their artwork.
When author Barbara Moore began her blog quite some time ago talking about her project with artist Aly Fell, I was curious. Not only because they were doing a steampunk project, but because they were blending steampunk with the spiritual and creating a tarot deck. Ms. Moore discussed their personal insights into the progression of each card, from their initial ideas, to each finished piece.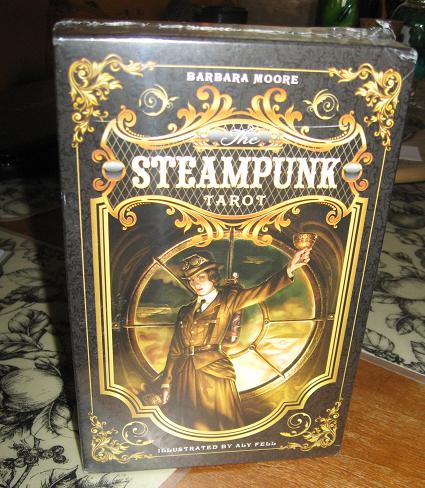 Tarot has been a part of Barbara Moore's life for over 20 years. She is intrigued with its blend of mythology, psychology, art and history. She has written a number of guides to reading and layouts in the past. She has done a great service to steampunk with her latest book (and the deck). She has taken all the traditional imagery and meanings and blended them seamlessly with the steampunk aesthetic. Each suit keeps its meaning, but it is enhanced through the steampunk details and characters.
British illustrator Aly Fell has been an animator for television and computer games. He now illustrates, particularly creating strong female characters. This is very obvious in a number of the tarot cards. All but one of the knights and pages, which are traditionally male figures, are female. They are dressed in traditional male attire and are strong, confident figures.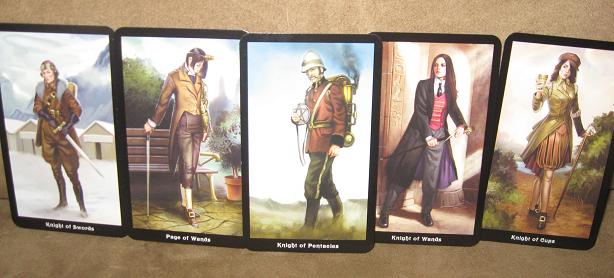 Here are just a few of the knights and pages.  The gentleman in the middle with the fabulous mustache is the only male.
Together they have produced a deck of exquisite beauty and depth. The detail in each card is outstanding! I have looked at them a number of times now and I am still seeing small items I did not notice before. There is also emotion and intensity within each illustration that brings a new level to the traditional meanings of  the cards.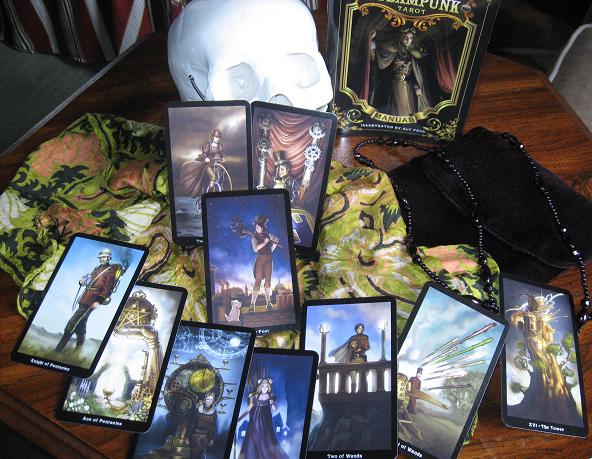 Like author Barbara Moore, tarot has been a part of my life for over 20 years. I was taught the original meanings and to use one's intuition to "see" what stands out in each card to get the whole story. When it came to doing this review, I did not want to simply read the book and look at the artwork. To give a proper review, using them in the proper context was needed. I was very lucky to have a few friends kind enough to let me do readings for them. I won't give you all the details, as a reading is very personal, but here are a few of the cards from each reading: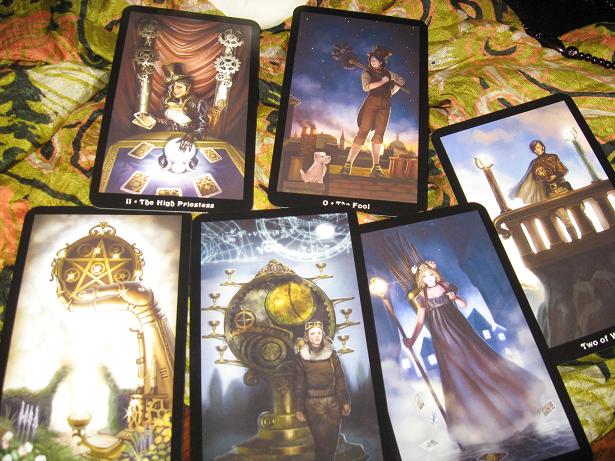 Michel Daw, modern Stoic and community leader – The Emperor, Two of Pentacles, Eight of Wands
The meanings of each that stood out were – strength, movement, taking off like a rocket (yes that's what I wrote down).
Pamela Daw, modern Stoic and community leader – Nine of Cups, Ten of Pentacles
The meanings of each that stood out were – celebration and good to come. Very positive.
Nancy Overbury – Steampunk artist, fashion maven and author of Overbury Ink.
The Chariot, Queen of Cups, Wheel of Fortune.
The meanings of each that stood out were – movement, determination, change in her favour.
I thank each of these brave souls for being my guinea pigs while exploring The Steampunk Tarot. I felt a little stiff doing these readings (I had only just received it). It always takes time to grow accustomed to a new deck, however, the images are so detailed and sumptuous that in no time at all any person using this deck will find it amazingly simple to use.
I cannot fully express how beautiful this deck is. In spirit and artwork it is the most gorgeous deck I have seen in many years. Even if I was not a huge fan of steampunk, the images are recognizable and classic, rich and expressive. They are sure to provide years of enjoyment, whether you read them or simply want them for their fabulous artwork.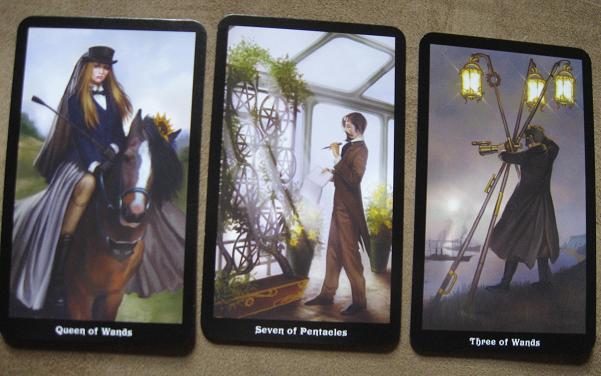 My old camera is not great for close ups, but this gives you an idea of how unique the images are.
For more information, and to purchase the set (deck and book), go to Llewellyn.com or Amazon.ca