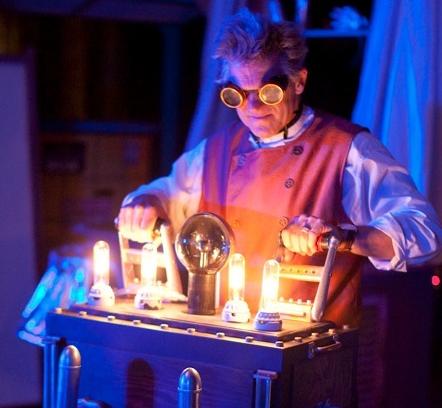 We are very pleased that a long time member of Steampunk Canada is magician Lawrence Larouche. I had a chance to ask him a few questions about his steampunk magic show.  He is a Canadian magician who has been amazing audiences for over 30 years.
How did you get started doing magic?
Every once in a while someone will ask how I began my journey into the world of magic and illusion and I can't help but leap back in time to 1966. I was a six-year old child living in a foster home in Knowlton, Quebec. It was a farm and I was too young to be of any help in the barn and so I spent a great deal of time playing on my own in the surrounding forests or down by the pond.
One day I met a man by the little stream that fed into the pond. He told me to come to the edge of the stream and watch what he was about to do. As I got close he bent down and plucked a little flower from the ground and held it just above the water. He made sure I was watching when he lowered the flower into the water. In an instant, the flower turned into a small fish and swam away. I was delighted by effect and asked him to do it again and again. He bent down, plucked the tiny orange and yellow flower and lowered it into the water. Again, the flower transformed into a fish and swam away. That is how I remember it. That was the first experience I had ever had with magic.
Mr. Larouche then expanded on his magical history....
In my youth, I had many ups and downs with magic. I travelled to many parts of Canada and learned many lessons about survival, creativity and my love for the art of illusion. For a time I moved to Halifax and enrolled as a student at Nova Scotia Collage of Art & Design. I began to sing songs and perform magic tricks in the cafeteria in exchange for a free meal. I learned many fine arts including painting, jewelry, costume and print making. When all was said and done, I left Halifax with more skills that could be applied to my craft.
Soon after returning to my hometown in Hudson Quebec, I started dating a young lady by the name of Cynthia Martin. We'd known each other all through high school and were often involved in various theatrical endeavors after school. We went out for about 5 years before we got married. Cynthia was a graduate of theatre studies and was quite passionate about dance and movement. Oddly enough it was several years before I asked Cynthia to be my partner on stage. At first she was quite hesitant not wanting to be a mere assistant. She wanted to perform along side of me and eventually we made an agreement. Our first cooperative effort was a Duet Linking Ring Routine for which we won an award during a magic convention held annually in Montreal. 
For a number of years we created our own props and costumes. Eventually we created a show called Vision Impossible which was presented at the Just for Laughs festival in Montreal. We spent the next 5 years performing within the corporate market until the summer of 1993, when a telephone call initiated a once in a lifetime opportunity to work with magician David Copperfield. We're not able to give details, but suffice it to say that we learned a lot about what it took to sustain a large-scale production while on the road. The experience inspired us to expand our own magical production and branch out.  In 1999 we competed in the Canadian Championships of Magic and walked away with first prize.
The show became more family oriented when we had our own children, Nathaniel and Zadia. They also became part of our show. We became known as Canada's first family of magic and continued to perform together for many years bringing their schoolwork on the road with us.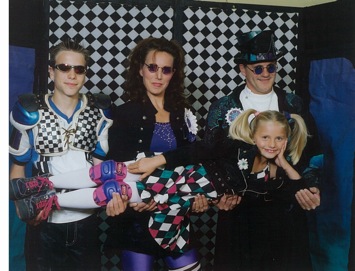 As a family production we could be much more creative with our sets and costumes, and as a result we began to assemble a show that was beginning to adopt a steampunk esthetic. We did not know this at the time. My thinking was that children love strange machines and colorful costumes. From 1992 to 2001 we developed a set that began sporting giant painted cogs and wheels embedded within a machine-like backdrop.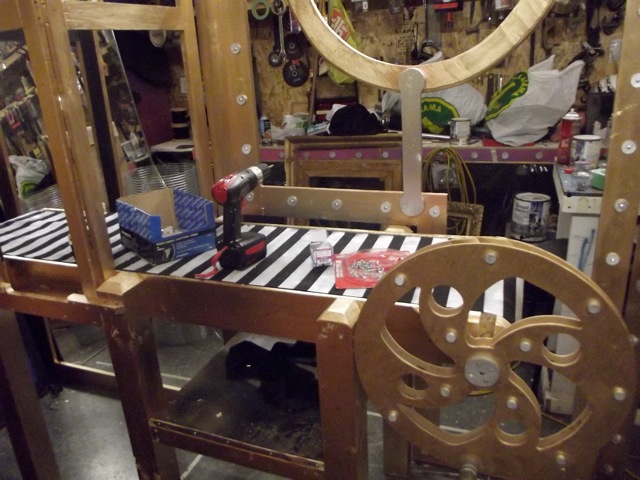 Our props were industrial in nature but not quite steampunk yet. It wasn't until 2006 that my son mentioned the word "steampunk" to me and I asked what it was. He directed my attention to several websites and images and suddenly it clicked. I now had guidelines to follow and inevitably I would be able to forge our own style. For MAJINX, steampunk lends itself perfectly to our stage show.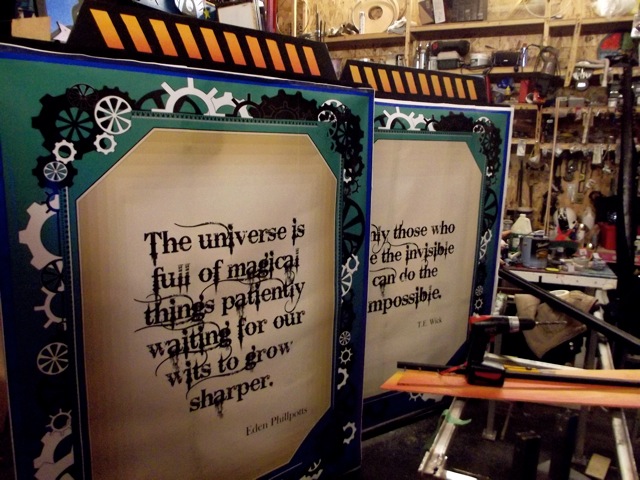 It takes place in a magical factory filled with machines that do impossible things. Time machines, teleportation devices, mind reading machines and gravatic-repulsion platforms. The result is a stage full of strange objects covered in brass tubes, hoses, valves, pressure gages, cogs and a million rivets. Our costumes are a blend of early Victorian designs with a touch of "mechanology" to help bring it into the realm of steampunk. I feel it is the mechanical accessories that put the "punk" in steampunk.
How did you invent Prof. Wick? 
In the late 1990s I began writing stories revolving around adventures of two magicians who use their talent and resources to solve spectacular mysteries. Their names were Savannah and Warwick. When he was not on the stage Warwick was a collector and investigator of the unexplained. He embraced the mysteries of the world with childlike enthusiasm and enjoyed using his skills as a modern day magician and illusionist to try and solve these wonderful mysteries. He loved designing special gadgets and machines to assist him in exploring the paranormal. Savannah was the clear thinking heroine who constantly pulled Warwick out of trouble whenever his gadgets didn't work. She would simply call him Wick for short. I adopted this name as my stage persona, adding the Professor to help steer the audience towards the theatre of "strange science" rather than to magic.


What is your favorite trick?
 We have several "favorite" illusions including our one of a kind Cut The Lady In Half and a trick called Sub-Trunk which was made famous by Harry Houdini in the early 1900's. We call our version of this classic The Dragon Cage and it is a touch more elaborate than the standard effect. If you want to see a bit of it you can visit Youtube and type in Majinx Illusions. I also love my new "ThroughThe Looking Glass" Illusion where I walk through a mirror which has been examined by an audience member.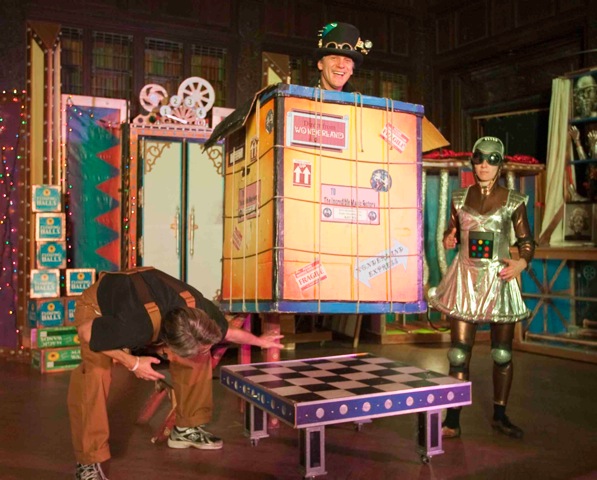 Floating Professor Trick

What are your plans for the future?
The children have grown up and gone on to create their own spectacular lives. We are back to two once again. Cynthia and I will continue to perform our show as a duo and we will definitely expand on the whole steampunk angle. We would love to perform at some of the steampunk conventions. It's a great show with lots of audience participation featuring wonderful machines that do more than just sit in a display cabinet. They actually perform the impossible feats that they were designed to do. Well worth the ticket of admission. We will also continue to get more involved in the "steampunk revolution" if for no other reason than to have a good time and make new friends!
Lawrence Larouche and his lovely wife Cynthia not only have a steampunk magic show, they love it in their personal lives as well.  Look what he gave her for their anniversary....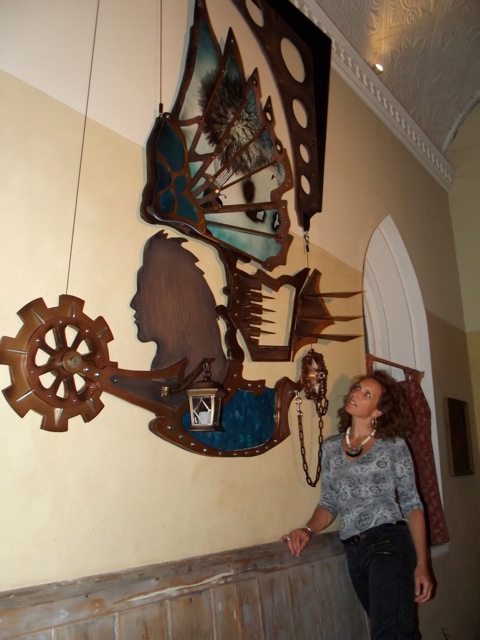 Be sure to check out their website for lots more. They also have a photo album here at Steampunk Canada.