We Canadians are a tough and inventive lot. Through adversity and crazy weather we have learned to fend for ourselves while remaining polite and good natured.
That sense of adventure and invention has passed down through the generations to the splendid lady and gentleman tinkers we have today.  Many have found the steampunk community to be the perfect place to play with ideas and create to their heart's content.  A few have become quite well known in the steampunk world including Adam Smith , Kyle Miller , Roger Wood and Melissa Wartenberg.
Here in Canada we have many other makers, tinkers and inventors who are not quite so well known, but whose creations are full of the same passion for invention. Let me introduce a few to you.
Our first maker is Dale Adams. He is a freelance artist in Victoria,specialising in drawing and watercolor.  "Just looking at other creations has inspired me to constuct a steampunk sculpture of my own. The "Wolsenburg Clock" by a local author was also inspiring. The pop-up card is just me trying to be original by introducing a German angle to steampunk."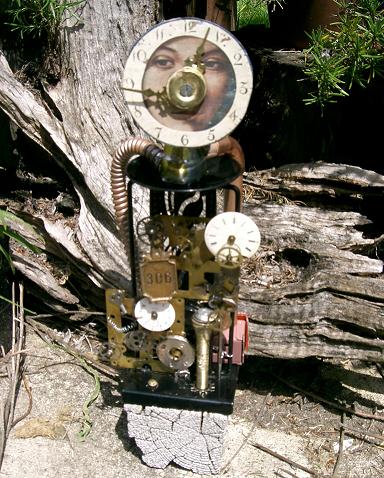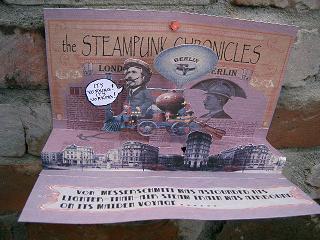 Next is Lou Guest.  She is a mosaic mixed media artist living with her mechanic husband in Gibsons, BC.  She works with machinery and tiles, glue, beads, broken and found objects, roadside detritus,solder, old stuff and thrift shop finds. You can find her on Facebook at Mary Louise Guest Mosaic Artwork.
"This particular skull was  commissioned by a Harley Davidson enthusiast and skull collector who brought 6 boxes of Harley motorcycle parts to my studio and walked in and uttered the word Steampunk. A new world opened and, although it took me several months of research, reading and viewing Steampunk philosophy, art and literature when I realized I had already read many of the seminal Steampunk novels, and the vision of Steampunk was already known to me, just buried and obscured by the years. Using stuff from my husbands collection of mechanical detritus and some of his machinery, stuff from the basement and old clocks from the thrift, Kevin was born, named after Kevin Jeter."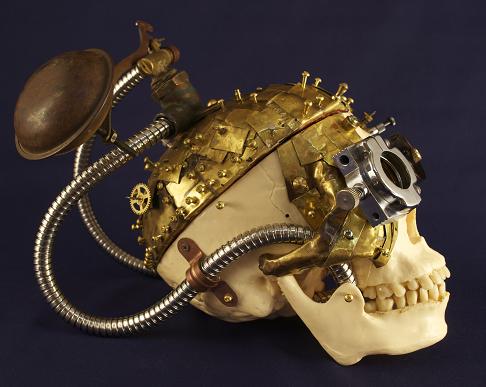 Chris Chapman is a leather worker.  Although she has just started in the steampunk genre, She has been working and tooling leather for over ten years. She is the owner of Dragonlily Leather.

Francois Bonneau is one of the creative geniuses behind Steampunk Montreal.  The beautiful creations he makes as "Dr. Bones" are done strictly for his own entertainment.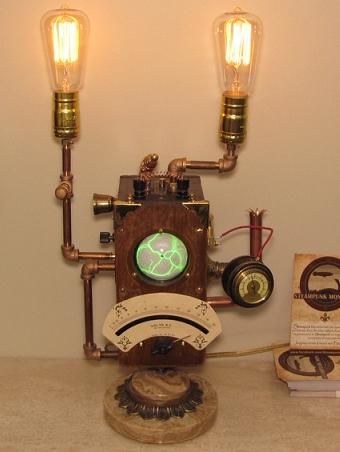 Charles Lakins is from Sydenham, Ontario. He is an avid tinkerer and enjoys building things static and movable for display and everyday use. His main hobbies are building radio controlled airplanes and working with electronics.  "I created this plaque a little over a month ago in the steampunk  fashion as a start to creating steampunk articles. The plaque itself consists of various items found around the workshop from an old ship builder. The gauge on it is all original and has not been modified in any way, it is meant to be used to measure negative pressure."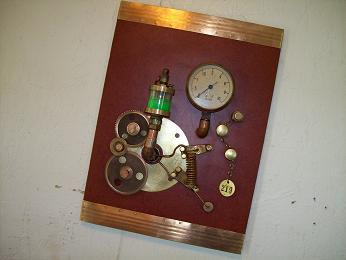 Doug Adair works with leather and metal. He owns and operates Aether Anvil. He creates steampunk leather, metal, and mix-media creations. "Inspiration comes in many forms, but what was, what could have been, and what will be, is what drives me."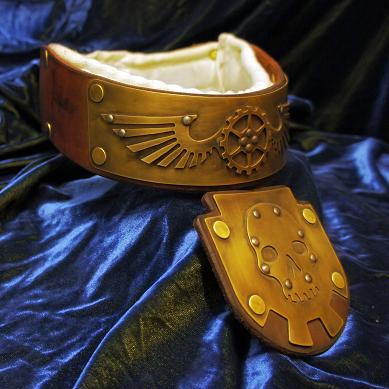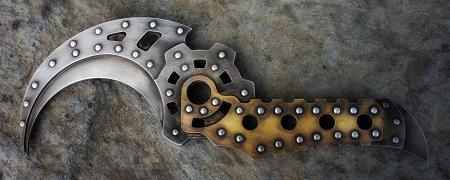 Theresa Martin is an Ontario native and declares herself in no way a professional, but she loves to tinker.  Her creations are a labour of love.  "My inspiration for the gun came mostly from the need/desire to have something in the way of a costume. My first love in the Steampunk aesthetic is really the gadgets and accessories, so I spend more tinkering with those kinds of items as I use them to provide more story (and history) to the personas/costumes I'm designing. I love the challenge of coming up with an idea and then trying to figure out how to translate that idea into a finished item. "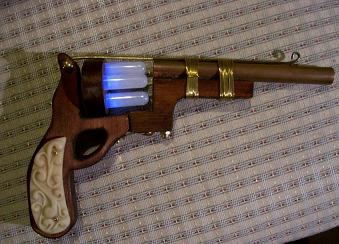 Jimi McKee is a sculptor and artist. "Many of the towns on the Trent Canel System were foundry areas. Orillia had 4 foundries, Door Oliver Long being a major one started in 1887 supplying castings for the mines. I was given 7000  wooden patterns to make salutes to the workers that died young due to the pollution in the foundries. I am creating a salute to the foundries that  employed 40% of our male  workforce as the northern towns were being built in the early 1900's."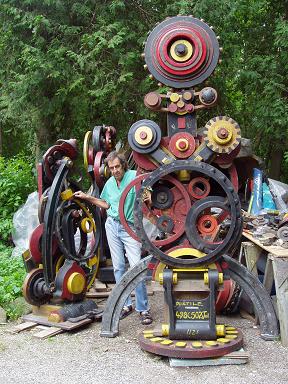 Darren Kelly (also known as Doctor Darren & DBK) designs and builds steampunk creations for fun. Growing up disadvantaged, he learned to make due with what he could find in dumpters and people's refuse.  He learned to be creative first as a means of survival and later purely for the joy of invention.  "I have always loved the idea of STEAMPUNK but never had a name to put to it until now. I have so far made my hat and googles (wearable), my Steam Pistol (a static model) , my Dimensional Postulation Scope (a prop) , and my Panabolic Ear Booster (a working Bluetooth headset). I enjoy steampunk very much!"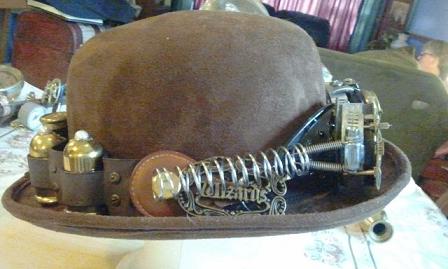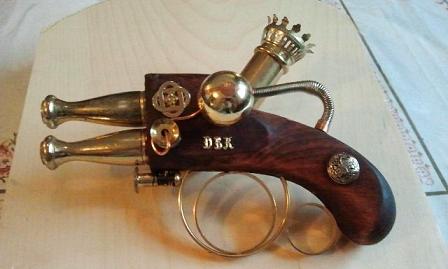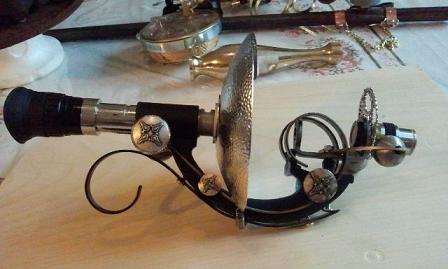 JF Ferrary is another gentleman who simply creates for the joy of invention.  His inspiration - "I saw Nixie tubes at a maker faire and thought that they were nice devices". This lead to the creation of his beautiful Nautilus Clock, as well as his lathe and milling machine on a compact bench, and his goggles.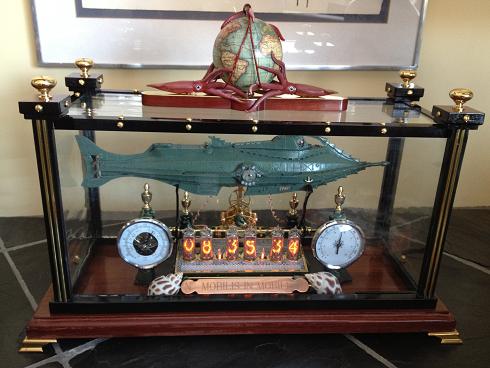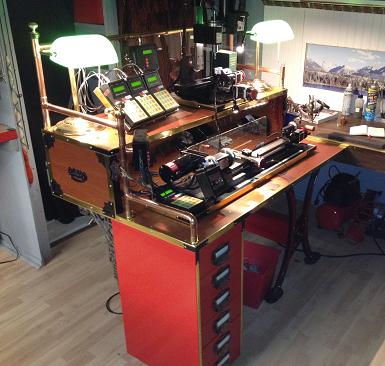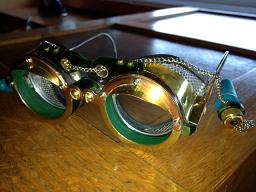 Thomas Fontaine is a watchmaker by trade and describes himself as a "time machine mechanic".  His love of clockwork began when he was 14 and he now builds and repairs clocks through his business Antiquarius Antiques and Curiosities. He loves to create new unusual clocks from salvaged parts.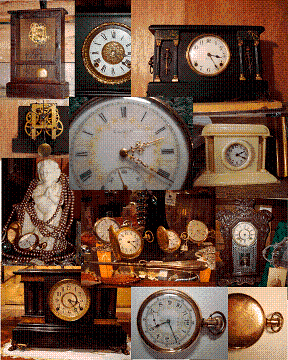 Our last maker is Ian MacGregor. He has such a love of tinkering, making and inventing that he wanted to share his love with the world.  He has built the most fantastic place to honour inventors - Canadian Museum of Making.  A documentary was made about this very special place and you can watch it HERE   It is truly inspirational!
I do hope you have enjoyed meeting just a few of our incredible Canadian makers, tinkers and inventors.  To each and every one of our brilliant makers I say HUZZAH!

Our next article in this series will showcase our fabulous Canadian artists, like Melissa Arnold. 
As a full-time caregiver for her grandfather she had to find a creative way to support herself.  She was able to set up a studio in her grandfather's basement and Sahetah's Jewelry was born.
She loves to create vintage style jewelry and Victorian in particular.  She has begun making what she describess as "feminine steampunk" pieces.  The piece below called "The Victoria" was part of the swag bags at the Golden Globes gift lounge.