This past weekend the City of London (ON) Steampunk Society hosted their very first Steampunk Gala.  It was held at the newly restored Canadian Southern Railway Station in St. Thomas, Ontario.
Laura McIntosh, the Mayor of the Society shares with us just what happened at this fine event: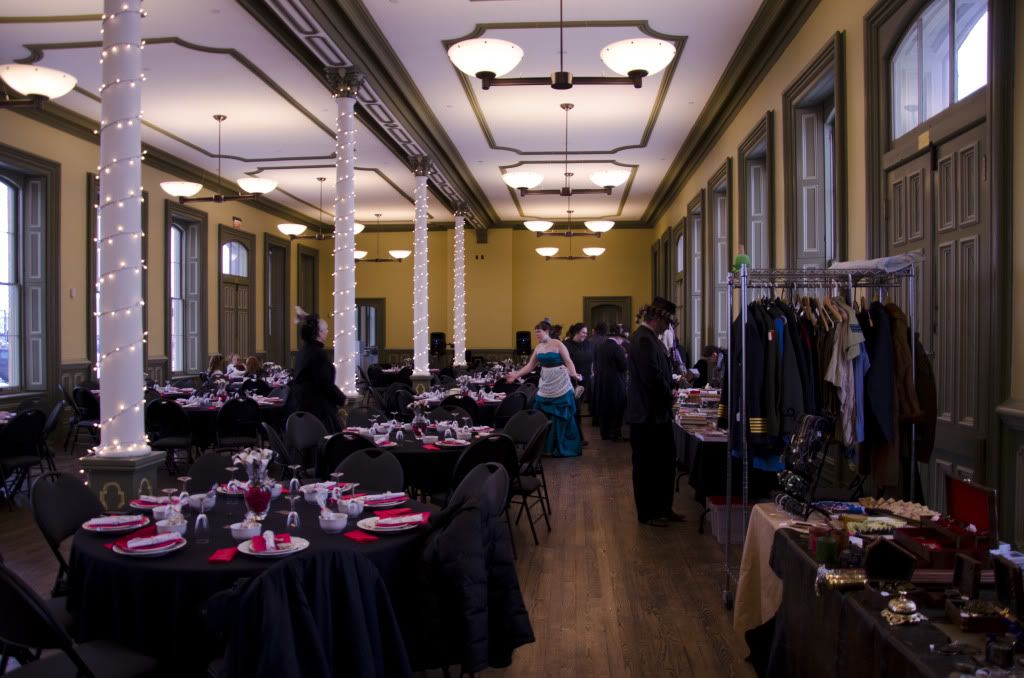 City of London (ON) Steampunk Society had our first annual Steampunk Gala on January 26th. The evening started off with a meet'n'greet socializing period where our guests admired each other's outfits, bringing together their creative talents and ideas. At the same time, the vendor tables were ravaged as their beautiful wares were displayed. The vendor tables consisted of historical clothing and beautiful jewellery from Tracy Gordon and Miss Rose Trusham; Steampunk themed wares like goggles and exploration items from Spencer's Mercantile and TallGear Industrial; as well as historical fiction and non-fiction brought by Empire and Eagle Books.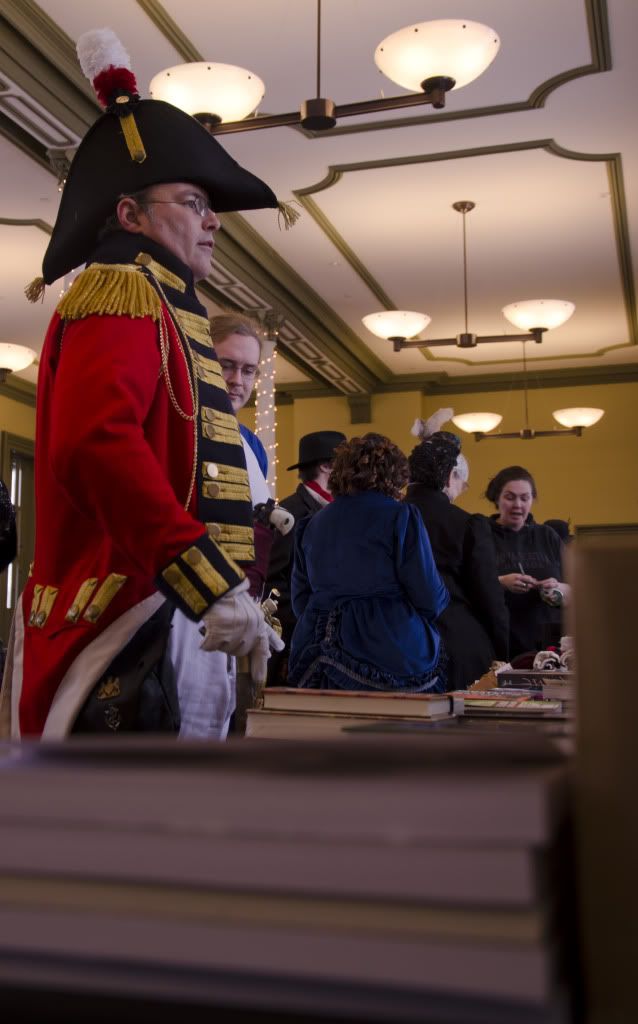 We had a beautiful fashion show from Spyder Designs. Meg Pehlke, the owner and designer of Spyder Designs, presented her new "Gilded Kraken" collection for it's first showing. The designs were imaginative and shimmered through the crowd like actual water with the octopus inspiration creating an underwater world to explore.
The evening's fashion show.

(photo by Dawn McRatterson)
Following the fashion show was the musical talents of Victoria Gydov, who performed for us a wonderful set of songs from her repertoire ranging from opera to soft ballads.
The dinner was a wonderfully presented buffet of beef and chicken, with of course delicious vegetarian dishes as well. Intertwined with dinner were the silent auction winnings and raffle draws, with proceeds going to Community Living London, as well as the adoption fees from the "Adopt a Cephling" fundraiser. The evening ended on an enthusiastic note with a high-energy dance party.
The whole evening has spurred an excitement and energy for the up and coming year which we look forward to with zeal.
London's lovely Mayor, Laura McIntosh

(photo by Beth Goldsworthy)
Thank you Laura for your report on the Gala.  I hope it's bigger and better next year!
(All photos, unless specified, are from the Steampunk Gala album at Photobucket)