In April of 2012 I wrote a review on the first in this series, Risen, by author Elizabeth Watasin of Los Angeles, California.
In that review you will find much on the author herself, descriptions of  the two main characters Jim Dastard and his partner Art, and a summary of their first adventure.

Risen was a great introductory story, but BONES really gets down and dirty.  This second tale in the series is three times as long as the first. It is also much more intriguing and disturbing. It is brilliantly written, but most definitely not for the faint of heart, especially those who know anything about the horrible practice of vivisection on animals in the Victorian period. It also involves a very dark and deadly version of supernatural surgery. The Bone Stealer is removing bones from the healthy poor and suddenly crippled rich are cured, leaving the dead with no bones and no evidence of how they were removed.
It is also a study in human nature and love from Art's viewpoint as a "sapphist".  The author has done some fantastic research on those of means who loved their own gender in the Victorian period. I was pleased to learn of  the fairly common practice of "marriage" amongst upper class women who wished to live together, whether for social, emotional or economic reasons. 
But this story has so much more. We get a more indepth glimpse at a few minor characters and their mysteries, including Helia's curse, Helena's secret identity and the beautiful but ancient Manon. As well, two new characters are introduced. The first is Delphia Bloom. A very resourceful and intelligent teenage girl who becomes squire to both Jim and Art. I very much look forward to her character's development in future books. The other new character is Ellie Hench. A blind woman and stick for hire. She has her own way of "seeing" and is a mean fighter.
BONES is one of the most unique and entertaining books I have read in quite some time. I applaud Elizabeth Watasin for her ingenuity.
But wait...there's more!! We have a giveway.
The printer made a very slight error to the book cover on a number of copies.  Can you see the difference?
It is slightly hazy.  However the inside is just fine. The author has decided to give away a few of these misprints. A great keepsake that could be worth much more than a plain old copy in the future.
We have a misprinted copy of BONES to give to 2 lucky winners and a grand prize of a copy each of RISEN and BONES to give to one lucky winner!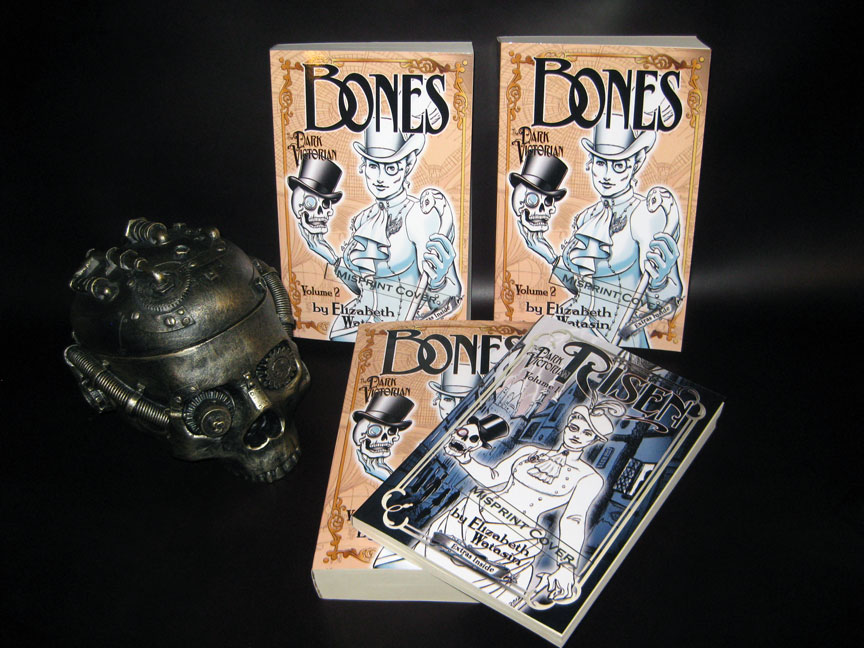 All you need to do is answer in the comments
Who is Jim and Art's new squire?
You have until Thursday, March 28 to answer.  Everyone who answers correctly will be put into a random draw on Friday, March 29!

The author herself will be sending the winners their books...and I'm sure if you ask nicely she'll even sign them for you.
You can find out more about The Dark Victorian series and the author at her website a-girlstudio.com
You can purchase BONES - The Dark Victorian Vol. 2 at  amazon.com