| | |
| --- | --- |
| Posted by Lee A. Farruga on October 15, 2013 at 3:25 PM | |
This post and all photos are by Canadian artist Gary Helps

Since early childhood I've had a penchant for, and a delight in, finding stuff - apparently, the shinier the better. This, combined with a mechanical propensity for fitting unrelated objects harmoniously together in otherwise unintentional ways, has led me astray from my usual occupation of creative expression... advertising.
The idea for the creation of the sound sculptures was unintentional. Twice daily excursions through my Leaside industrial neighbourhood led my dog and me past a metal recycling yard where I'd gather all of the glinting steel, aluminum and brass bling their lot sweeper couldn't whisk away - but all that my pockets could carry.

For over a decade, I amassed a considerable selection of every shape and description but eventually concluded I'd either have to pitch the lot, or get creative. It was the metals' diverse visual allure and harmonic tones that generated the chime concept and in due course, the process began. I produced 6 of the original recycled pieces but an eventual downtown relocation caused me to put the project aside.

Years later, having scavenged an assortment of vintage lamps from numerous sources, the light was once again flicked on, so-to-speak, and the endeavour renewed. In 2 months I churned out 18 pieces primarily comprised of the lamp components embellished with any complimentary elements displaying melodic tone, resulting in the present chime collection.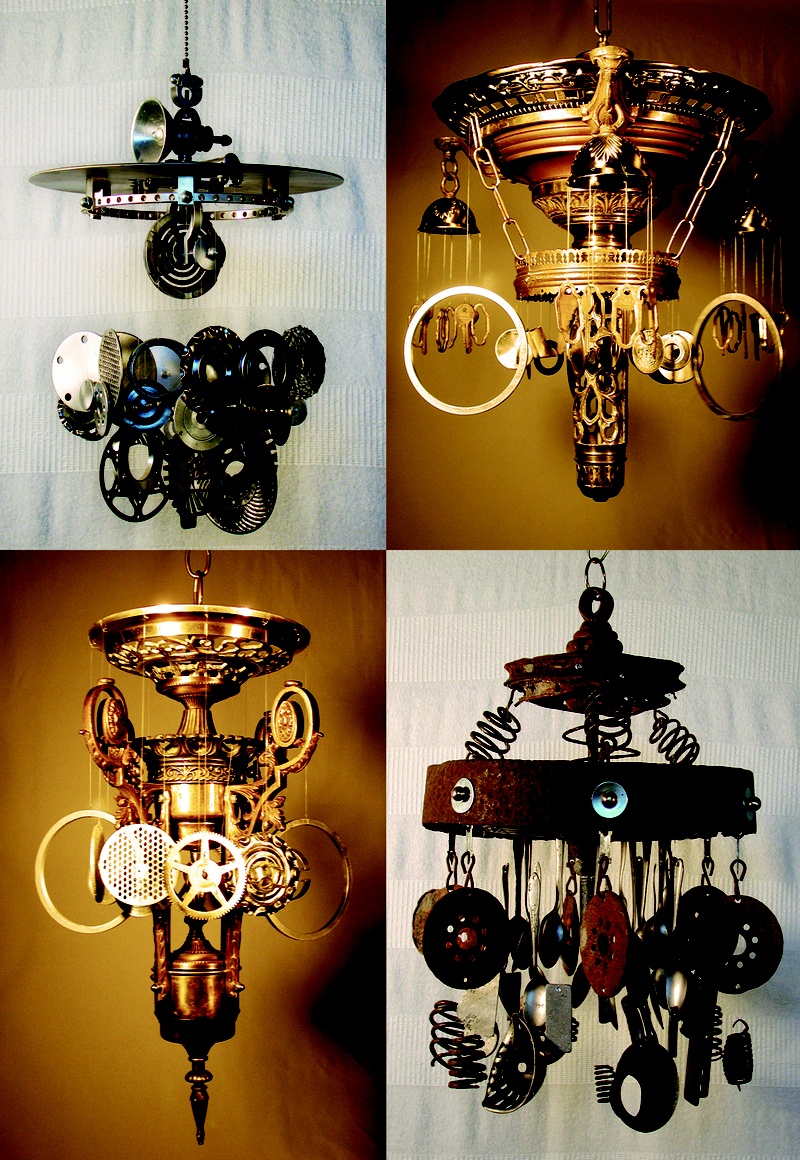 The next obvious step in their evolution has been to enhance their functionality with the addition of lighting, either votive and/or electric. One of the accompanying photos features my first effort which is a typical assemblage of vintage brass lamp elements but void of the usual chimes, and bedecked instead with 4 dozen crystal prisms. The elegant glass bulb protruding from the bottom is actually a lab flask which, by exquisite coincidence, snugged perfectly into its bell-shaped brass pendant. To me this fixture appears reminiscent of what might have been a chandelier suspended from the ceiling of a Jules Verne submarine.

Always in the process of creating something new, my progress can be reviewed via the link below or feel free to call and make arrangements to visit my studio to see and hear my work in person. I have finally succumbed to the realization that just because I made them doesn't mean I have to keep them all, so to anyone interested, they are for sale.  416 422-4690  ghelps@rogers.com