Dru Pagliassotti is the author of the Clockwork Saga series published by Edge Publishing.

Clockwork Heart is the first in the series.
The main character Taya soars over Ondinium on metal wings. She is an icarus — a courier privileged to travel freely across the city's sectors and mingle indiscriminately among its castes. After a daring mid-air rescue, Taya finds herself entangled with the Forlore brothers, scions of an upperclass family: handsome, brilliant Alister, who sits on the governing council and writes programs for the Great Engine; and awkward, sharp-tongued Cristof, who has exiled himself from his caste and repairs clocks in Ondinium's lowest sector. Both hide dangerous secrets, and Taya is about to learn more than she may care to know.
Clockwork Heart is a good story of adventure and mystery. It also boasts quite the social commentary about structured hierarchy and the pitfalls at every level. The story is also quite interesting in that while the world the author has created is her own, it has many elements from our world, from the caste system of the people, to the card system used for the great engines used to run the country. It's a unique blend that works really well together.
The next book in the series is Clockwork Lies.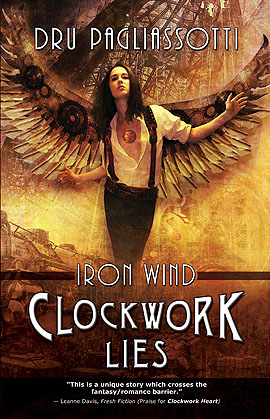 This one starts a few months later and quite a lot has changed for Taya Icarus. Marriage, a promotion and with it, a higher level of intrigue. This second book expands the world that the author created in Clockwork Heart. In this wider view of Taya's world, more characters and countries become part of the intrigue, and the games become more deadly.
It's the perfect continuation of the saga's larger storyline.

The final book in the series is Clockwork Secrets.
Once again the author expands the world within this series and more players become part of the deadly intrigue that surrounds Taya Icarus and Christof Forlore. This time there is more than just Ondinium's fate in the balance. A royal family is devastated and Taya is in more danger than ever before.
This conclusion to the series includes a brilliant, and tense, climax and a satisfying ending.

As part of this post, I asked author Dru Pagliassotti a few questions, and she was wonderful and answered them for us:
1. How did you get interested in writing steampunk stories?
I began writing steampunk in a rather roundabout fashion … it was 2004, and I was running a GURPS' Steampunk roleplaying campaign as National Novel Writing Month drew near. Since I was already immersed in creating steampunk adventures for my gaming group, it seemed natural to decide to write a steampunk novel for NaNoWriMo instead of my default setting of swords & sorcery. The result was a first, incomplete draft of Clockwork Heart.
2. What inspired you blend the steampunk genre with romance for the Clockwork Heart trilogy?
I'd been reading about romance as part of my academic research, so it seemed natural to build romance into the novel, too. Also, you might remember that almost all of the steampunk fiction at that time was written by men, and most of it treated women pretty shabbily — Phil & Kaja Foglio's Girl Genius was a notable exception! So I decided to write the kind of steampunk that I would want to read; steampunk without all the sexism. I happen to enjoy regency romances, so that was the romantic model I used in Clockwork Heart. However, in the Clockwork Heart trilogy, Taya is the adventurous one of the couple. She is accorded a great deal of symbolic and physical freedom in society due to her icarus status, whereas her romantic interest is the one who's constrained by his social caste. They're not complete gender reversals, but I did have fun spreading the Regency romance genre's conventions a bit more evenly between the sexes.
3. Do you have a favourite character from amongst all your works, whether steampunk or not?
I'm afraid I don't; I have fun writing all of my characters. I wish I had more room to explore the secondary and tertiary characters' lives, though — Kyle and Lars the programmers, for example, or Nayan, the hung-over border icarus. Lt. Amcathra was the only secondary character I was able to pick up from the first novel and expand through the second and third; he's the stoic and long-suffering lictor who ends up watching Our Heroes' backs and trying to prevent them from doing anything too foolhardy.
4. What is your favourite thing about the steampunk genre/community?
I appreciate the fact that steampunks have created a self-aware community. It confronts the limits and prejudices of its inspirational historical material head-on and has been doing its best to promote inclusivity. When I go to steampunk events, I see a wide variety of ages, ethnicities, genders, and body types, and I get the sense that there's an honest effort to encourage the variety of of ways one can express "steampunk." The genre itself valorizes rogue individualism — the scientist or tinkerer pursuing a vision, whether for good or for evil — and I think that emphasis on individuality and do-it-yourself contributes to the community's celebration of innovative or unusual steampunk expressions. Of course the steampunk community isn't perfect — we're only human — but it seems to really try to enjoy itself without harming or belittling others.
5. Where have you traveled to promote your books? Any one place stand out? N/A* I haven't gone any place interesting or amusing enough to comment on yet….!

6. Can you tell us a little about any future projects?
My current work-in-progress is a dying-earth political fantasy about revolution, loss, and transformation. I've described it as South Asian post-apocalyptic dieselpunk, for what that may be worth! It will be darker than the Clockwork Heart trilogy, and it will have dinosaurs.
7. Where can people find you and/or your books?
I'm most active on Facebook, and I periodically update my blog at DruPagliassotti.Com and my book list on GoodReads. The Clockwork Heart Trilogy can be purchased on Amazon and Kobo. Brilliance Audio publishes the audiobook versions. If you happen to enjoy horror, my very non-steampunk novel An Agreement with Hell (2011, Apex Publications) is available from most online booksellers.