When Tor asked Steampunk Canada to review a new book just out - Gideon Smith and the Brass Dragon - I noticed it was the second in the series by author David Barnett. When I asked if we could start at the beginning, they graciously sent the first in the series - Gideon Smith and The Mechanical Girl.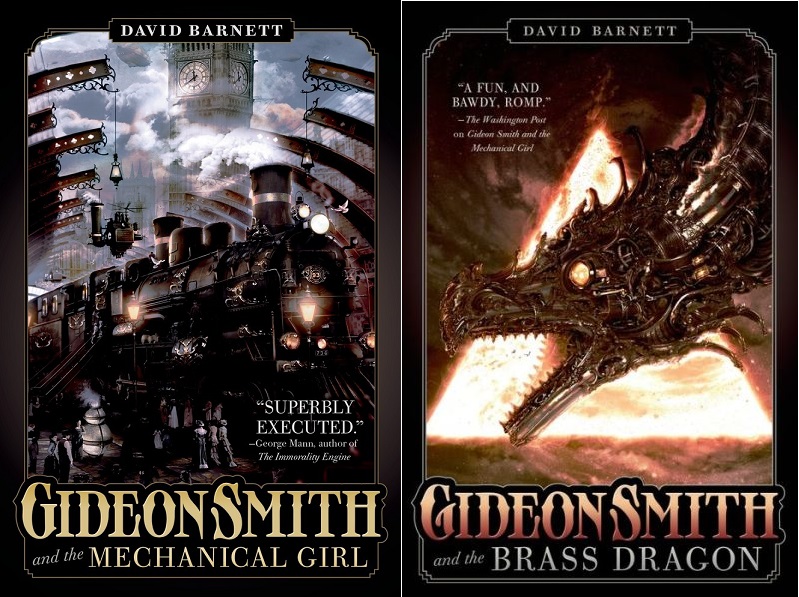 It was a good move to ask. After having read both, it simply would not have made sense, or had as much impact, if I had only read the second book.
First of all, David Barnett has created a fabulous alternate reality where Queen Victoria reigns over 3/4 of the known world - and that includes the east coast of North America following the failed revolution of 1775. It is also a world where steam and technology have taken off. Where airships rule the skies and where the Mason-Dixon Line is an actual wall built right across North America to keep any rebels out of the North.

In Gideon Smith and the Mechanical Girl, we first meet Gideon. He's a young fisherman working with his father in a small village in England. He's not very happy though. He dreams of adventure and constantly reads the adventures of his hero Captain Luian Trigger. But when Gideon's father and his entire crew mysteriously disappear, Gideon is hell bent on finding out why.
He decides to ask for help from his hero Captain Trigger. On his way to London, he rescues a mysterious clockwork girl named Maria. When they do finally meet the Captain, he is nothing like Gideon envisaged. Gideon's world gets turned upside down and he's suddenly their best chance at saving the day.
There are a lot of great original characters introduced, as well as famous historical figures who become part of the adventure. The author has had a lot of fun messing with their new realities. Bram Stoker's new reality is probably the best in the first book. I also love that Albert Einstein's father is the mad scientist here, as well as Maria's creator.
The first book starts out looking for answers about Gideon's lost father, then it becomes a story of supernatural revenge, then it's a race to save Maria, and then it's a race to save all of England. It's non-stop and incredibly entertaining. The climax brings forth the largest character of all, the brass dragon - Apep.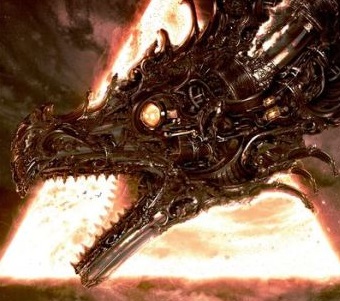 It was created by an ancient civilization.
That's all I'm saying... don't want to ruin the suspense.

While the first book ends with a few issues resolved, the main tale involving Maria and the brass dragon is left to continue in book two. I was very glad to have book two here so I could get into it right away. I didn't want the story to end.

In the second book, Gideon, now the Hero of the Empire, Aloysius Bent, boorish journalist who has become the chronicler of Gideon's adventures, and Rowena Fanshawe, airship pilot and all around kick ass hero of the skies, head off on a mission to find Maria and the brass dragon in North America.
The strange mix of British New York, Japanese California, Spanish and Southern states, and mystic lands of the native peoples in between make for another fantastic adventure. Each part contributes a new ally and/or villain - in one case, both. The author brilliantly brings the whole of North America together in the book's climax... and WOW what a climax. It's a little insane and a lot fantastic!

I'm going to end this with the intro. In the very first chapter, Gideon, Bent and a ship's crew find and save a mostly mechanical Charles Darwin and the Empire's Professor of Adventure, Stanford Rubicon, from the Lost World. It's an uncharted island full of dinosaurs. They escape with Rubicon secretly taking something he most definitely should not have which leads to a very unhappy creature following their ship. This doesn't seem to have anything else to do with the book. And then... well, a part of this first chapter ends up being a "big" part of the grand finale. And another part, I do believe, will be part of Gideon's next adventure.

Gideon Smith is a hero that steampunks can get behind. He is an everyman who follows his instincts... and later his heart... to become not just a hero but a leader.
I really enjoyed both stories and look forward to finding out what happens in Gideon's next adventure.

Expect more soon - the next book in the series is coming in 2015 - Gideon Smith and the Mask of the Ripper
In the meantime, you can get Gideon's adventures with the Mechanical Girl and the Brass Dragon at amazon.ca