| | |
| --- | --- |
| Posted by Lee A. Farruga on February 22, 2016 at 9:45 AM | |
A couple of years ago, Canadian artist Gary Helps introduced us to his steampunk inspired wind chimes. At the same time, he was just starting to experiment with making lighting too. He is now creating more light fixtures, and they're just wonderful.
He has ventured into the fabrication of light fixtures based on the same materials of recycled vintage light elements and other metallic paraphernalia. They have a decided steampunk twist to them, as you can see in the photos below...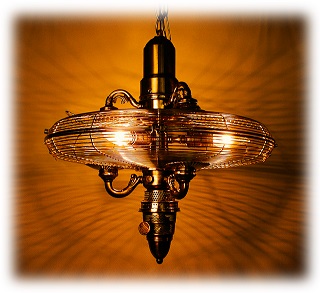 This piece is comprised of two floor lamp trilight elements, oil lamp pieces and a custom designed and fabricated socket structure plus a 14" fan cage. Supplied with decorative chain and canopy ready to mount.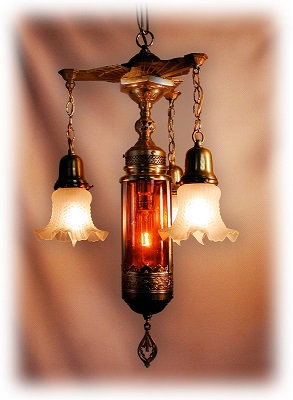 The central structure of this particular piece is a well disguised vintage medicinal epothecary jar. It is embellished with various and sundry metallic paraphernalia including a hanging oil lamp counterweight casing on its lowest extremity and an inverted brass table base attached to a 3 armed deco fixture element on top from which hang 3 fluted, frosted shades. Mounted inside the jar is a vintage brass socket with the source of illumination being an elongated picture light bulb.
You can learn and see more of Gary's creations at his website Metalmorpia