| | |
| --- | --- |
| Posted by Lee A. Farruga on June 22, 2016 at 8:20 AM | |
"At the end of the 19th century the eccentric Canadian inventor Thaddeus Barnes buried six copper cylinders across Canada. The locations of those cylinders he encoded in a private journal. That journal was filled with riddles, ciphers, mathematical puzzles and word games. His intention was that the most worthy of his three children would solve his vexing challenges, discover the cylinders and retrieve the six pieces of a brass key which would unlock a hidden safe that contained details of his greatest inventions, and his fortune.
But, upon his mysterious death, his children sailed to Canada from England on a astounding ship, the Titanic. His journal remained forgotten in the Canadian Archives. Until now."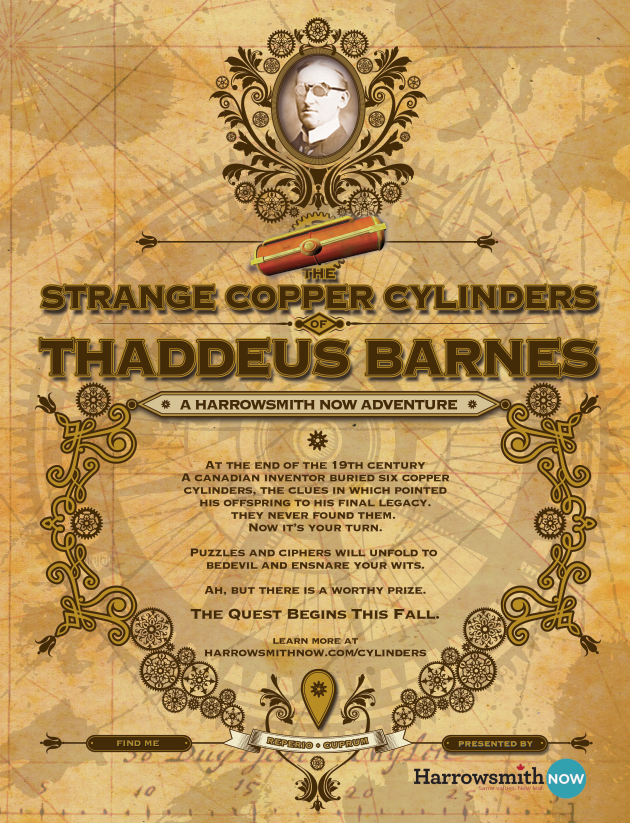 Come this fall Canadians will be able to enter the world of Thaddeus Barnes, his inventions and his journal. Each week starting in August HarrowsmithNow will reveal a new page of the Barnes journal. Each will lead to a new copper cylinder until the safe is discovered and a prize awarded. They call the adventure The Strange Copper Cylinders of Thaddeus Barnes.
But the tale goes deeper. Each week they will also release a new episode of a gripping radio drama called The Strange Wax Cylinders of Thaddeus Barnes. In it a younger Barnes, his brilliant daughter Philipa, and his fellow inventive genius, Nikola Tesla battle the deadly Black Hand and an elusive enemy bent on stealing the secret of Barnes' greatest invention, the electron compressor.
At their website, you can request a notification when it begins. Have fun!